Date Night Ideas: How Laughter Can Help Decrease Pain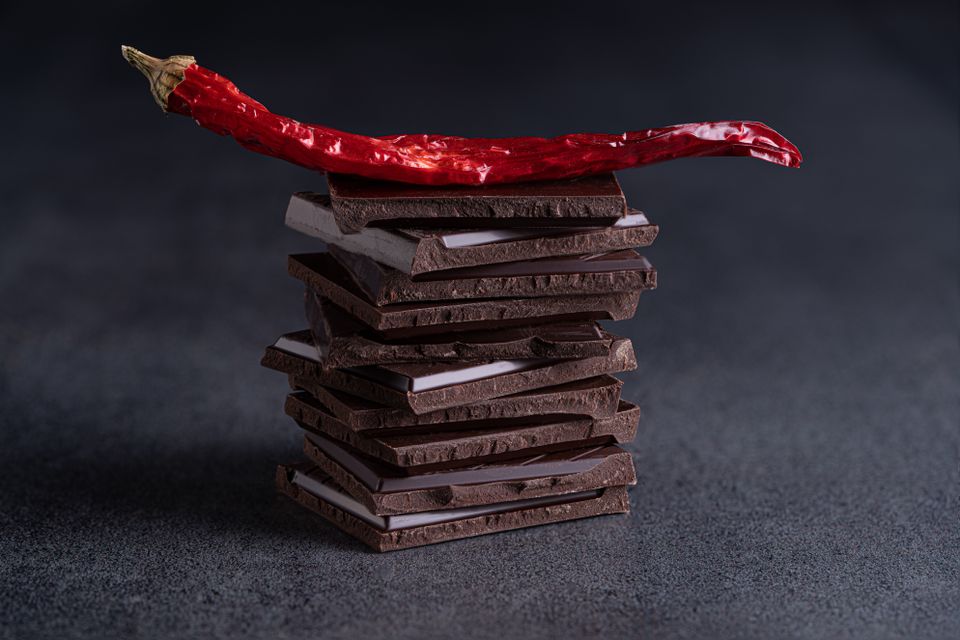 What do chocolate, chili peppers, and a bumping tune have in common?
They all help your body release endorphins, and they are all a part of this week's date night ideas!
This week, we are focusing on activities that help your brain release endorphins, which can make you happy and improve your mood! Are you ready? 🤩
READ FULL ARTICLE
---
DATE NIGHT IN IDEA: CREATE A PLATINUM SONG

WHAT TO DO:
With your partner, download the Soundtrap app on your phone. Soundtrap is an app that allows you to create and record an entire song right from your phone. You can play the piano, flute, guitar, drums, and even the 80's synthesizer! The opportunities are endless! The app is free to use and perfect for our Date Night In idea!
We suggest watching a few of their tutorial videos (which should automatically pop up when you create an account). This will help you maximize your experience. It also helps to use headphones so you can focus when you are recording.
Once you both are up to speed on how to use the app, your goal is to create your own song together! Don't worry about it being "top quality". This activity is more about the journey and the experience rather than trying to create a perfect song.
Choose one person to go first. That person must record one instrument (or track). Then, hand the phone and the headphones to your partner. They must choose a different instrument and record a separate track. Continue switching until you have 6-10 instruments recorded. Then, unplug the headphones and give the song a listen! Name your song and if you really want a challenge, write some lyrics to it!
You can create a couple of different songs or even revisit this activity every week or so to create a new hit! The more you do it, and the more comfortable you get using the app, the more fun it will be, and the better the songs will turn out!
Also, we have no partnership with Soundtrap. We just love music! If you know of a different app to use, even better!
WHY ARE WE DOING THIS?
Studies show that listening to music can give your brain a huge rush of endorphins, serotonin, dopamine, and oxytocin. In other words, music makes us feel good.
Even stronger, however, is creating music, and you don't need to be a virtuoso musician to benefit from it. Taking some time to learn a new instrument, write a new song, or creating an instrumental digitally on your phone, can give you a rush of endorphins, improving your mood. Even better, do it with your partner for an awesome bonding experience!
---
DATE NIGHT OUT IDEA: CHOCOLATE SCAVENGER HUNT
WHAT TO DO:
Using the list below, your challenge is to go around town and find different chocolate items to taste together. The only rule is that you must find each item at a different location. Spend a day together and enjoy our Chocolate Scavenger Hunt!
Also, you don't need to eat ALL the chocolate. Even just a taste will do! Here are the items you must find:
1. A Mini Chocolate Candy Bar
2. A Chocolate Cupcake
3. 100% Cacao Chocolate Bar
4. A Slice of German Chocolate Cake
5. Cacao Nibs
6. A Chocolate Covered Cherry or Other Fruit
7. Something with a Chocolate/Savory Mixture (Example: Chocolate Covered Bacon)
8. A Pastry with Chocolate Inside
9. Chocolate Chip Cookie
10. A Chocolaty Drink
WHY ARE WE DOING THIS?
There are components in chocolate that help stimulate your brain to release endorphins, which can make you feel happy. The darker the chocolate, the better! Although you want to make sure you aren't consuming too much sugar, the effects of occasionally snacking on some chocolate can improve your mood.
If you want to test this out, try sticking to 100% cacao or cacao nibs. Yes, they are a lot more bitter, and it might take some getting used to, but on top of helping your mood, cacao has been shown to improve your heart's health and lower your blood pressure.
---
$5 DATE NIGHT IDEA: THE SPICY FOOD CHALLENGE
WHAT TO DO:
Take $5 for each of you and go to the grocery store. Split up and have you each find 3-5 spicy foods. It could be Flaming Hot Cheetos, jalapenos, wasabi peas, Sriracha, or anything else you think might be spicy. Know your limitations. Don't get something that you or your partner could not handle, but push your boundaries slightly.
Once you each have your items, reconvene and share what you have gotten. Spend an evening taste testing the different spicy foods and rank them from mildest to spiciest.
Who has a greater tolerance for spicy food?

WHY ARE WE DOING THIS?
Capsaicin, a compound found in spicy food and peppers, can cause your brain to release endorphins and dopamine, which is why some people LOVE spicy food. Even if you don't have an enormous tolerance for spicy food, a small portion can do the same thing. And, it may be a reason to start building up your tolerance.

Maybe that's why chili pepper chocolate is a thing? 🤯